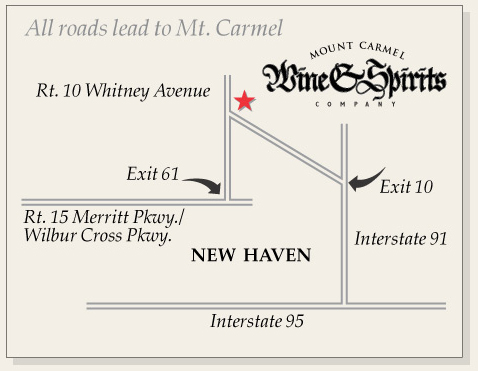 Mt. Carmel Wine & Spirits Co.
2977 Whitney Ave., Hamden, CT 06518
Phone: 203-281-0800
From I-91 (North or South):
FF
FF
FROM I-91:
Get off at Exit 10 (Rte. 40), Take this to the end,Whitney Avenue. Go right on Whitney (North, towards Cheshire). We are at the very next light, the red brick building on the right-hand side. Pull into our entrance, the first right after the light.
From Rte. 15 (The Merritt Pkwy)
FROM THE WILBUR CROSS PARKWAY (I-15):
Get off at exit 61 and head North on Whitney Avenue for 2 miles. You will then spot an easy landmark, the on-ramp for Rte. 40 which leads to I-91. Stay on Whitney Avenue until the next light. Pull into our parking lot, the very first right after the light.