wine talk
Is it the best of times or the worst of times for buying wine? On the negative side for the collector there hasn't been a truly great overall vintage in Bordeaux since 1990, yet the prices fetched for these wines have risen significantly. In Burgundy, the greatest wines are both difficult to get and very expensive. In California, inflation has outstripped quality. The most desirable Italian wines have at least doubled in price through the decade. All of this might dampen an investor's enthusiasm.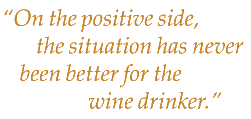 On the positive side, the situation has never been better for the wine drinker. Quality has improved vastly in lesser appellations in Europe and the Southern Hemisphere. The dollar is strong against European currencies. There have been some very good vintages in Bordeaux that have afforded great opportunities in 2nd Labels of Grand Cru Claret, as well as an abundance of high quality wine from lesser-known Chateux. Not since 1984 has Burgundy seen a bad vintage, where more excellent but less than "collectable" wine is available (and our direct-importing Burgundy program provides even more savings).

Perhaps the best wine value in the world is from the South of France. 1998 was a great vintage. These would include the southern Rhone wines like Cotes du Rhone, Vacqueras, Gigondas, and, most importantly, Chateauneuf du Pape, where this kind of
quality hasn't been seen since the great vintages of 1988, 1989, and 1990. Properties in the Languedoc, Rousillon, Provence, and other southern areas have made great strides in quality. The strength of the dollar has eaten-up the cost of inflation in most of the wines throughout France.

Italy, too, has been blessed with a string of excellent vintages, especially in Tuscany - every vintage since 1994 has been excellent, '97 - '99 great. New labels and Internationally-styled wines are finding their way here in great quantity. Aside from
the highly-sought Super Tuscan and Piedmontese wines, there is great value throughout the country, even in the southern regions where the wines have markedly improved.

---

Iberian wines have attained an incredible level of quality in the 1990s. Portugal, practically unknown to the States save for Port and sweet rose, is shipping world-class wines at very reasonable prices. Spain has shown remarkable refinement in their low to moderately priced wines, yet there are still many collectors clamoring to pay $50—$100 for the top-end bottles of limited production.

The wine market has truly become global, as more and better wines have arrived from Australia, New Zealand, South America, and South Africa.

In California, the varietals fighting for shelf space alongside the Cabernets and Chardonnays are competitively priced.

With almost no bad wine hitting the shelves from these varied high-quality sources, the times couldn't be better for those of us who enjoy wine on a regular basis.
---